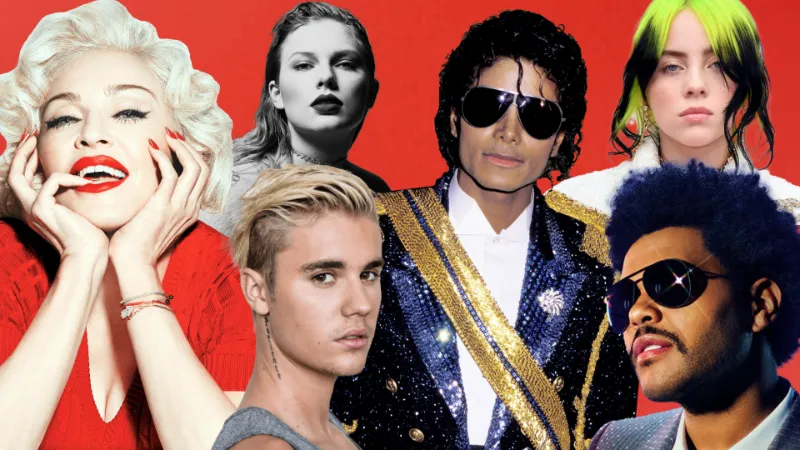 It is quite fascinating to know that since the inception of Pop music, the genre has never lacked artists who understand the uniqueness of the industry. For each one of them, carving a niche and making a household name for themselves proved to be possible amidst the crowd of sensational and successful singers.
Check: Top 15 Most Popular Pop Singers in the World 2023
While this is a long list, you may argue that it does not contain the names of all the popular pop artists. Nonetheless, after reading through you will agree that these are the singers who cracked the code of the music industry and came out as one of the most influential singers of modern pop music — surely you will be happy to see your favorite artists added, check out the list and thank us later.
Here are the 30 most popular pop artists that still ruling the music business…
30. Harry Styles
We should definitely talk about how his fans are constantly looking forward to his latest release with so much enthusiastic spirit. Harry did not leave the just concluded 65th Grammy Awards without an award. Harry received the Album Of The Year award for Harry's House in 2023.
29. Michael Bublé
Michael Bublé has a way of taking his audience on a journey with classic pop standards. Bublé's songs were atop the Canadian Albums Chart, the UK Albums Chart, the US Billboard 200, and the Australian ARIA Albums Chart amongst others.
Check: Top 10 Most Popular Male Pop Singers of 2023
28. Justin Timberlake
Selling 88 million records worldwide is no small feat and Justin Timberlake should be applauded for that. Famous for his song "Mirrors," Timberlake's rise to stardom began with his membership with NSYNC which became one of the best-selling boy bands of all time.
27. Bruno Mars
Bruno Mars is popular amongst his fans for his incredible showmanship and he seems to be preferred over a handful of his colleagues. Songs by Bruno Mars always make an appearance on the Billboard Hot 100 including "24k Magic" which won seven Grammy Awards.
26. Katy Perry
Katy once had a commercially unsuccessful album at the beginning of her musical career but looking at her today, you wouldn't have guessed. She has risen to influence modern pop music. Also, Perry is the first artist in history to reach over a billion views for "Roar" and "Dark Horse" on the video hosting site Vevo.
Check: Top 15 Most Popular Female Singers in the World 2023
25. Celine Dion
Versatility in language placed the high-pitch sensational singer Celine Dion among top pop icons. You would be shocked at how much she can switch from French, Japanese, Chinese, and English. She gained stardom with her third English-speaking album The Colour of My Love.
24. Miley Cyrus
Fans did not expect what hit them when the phenomenal singer showed up with the "Wrecking Ball." Her breakout met with opposition and criticism but Miley Cyrus remained resilient and released music that topped several charts making her popular.
23. Billie Eilish
Eilish is quite popular amongst young people especially teenagers for her style and her 'dark' music. The young artist is the first individual born in the 21st Century to own a number-one on the US Billboard Hot 100.
22. Adele
The pop music artist has endeared herself to many fans with several chart-topping songs. You are never disappointed by the kind of music Adele releases, instead, you just get in sync with it. Her accolades and awards are constantly rolling in.
Check: Top 10 Most Popular Female Pop Singers From 80s
21. Rihanna
The Fenty beauty brand owner never fails to amaze her fans with her energized performances. Her live performance at the recently held 2023 Super Bowl tells how much pop music has gained prominence. Rihanna bagged her first Grammy Award with her single "Umbrella."
20. The Weeknd
Musical versatility couldn't have been done better than how Abel Makkonen Tesfaye's "The Weeknd" does it. Tesfaye is notorious for diversifying his music style from dark lyricism and escapism to romance and even melancholia. He broke a record by becoming the artist to consistently appear in the top three on Hot R&B/Hip-Hop Songs.
19. Shakira
Initial failure posed a threat to the Colombian singer while making her debut. However, bearing in mind that failure is not fatal, Shakira who doubles as a sensual dancer pushed further and gained prominence in no time. Her wins have remained consistent and in large numbers.
18. Lady Gaga
Without doubt or any argument, you will agree that Lady Gaga is a popular pop artist that has bagged more wins than most of her colleagues in the industry. Her song "Born This Way" sold faster than any of her other songs on the iTunes store.
17. Elton John
Elton John still makes a statement with his songs and live performances, he is what many would call a living legend. The British singer remains one of the most decorated artists of all time with most of his works atop the UK Singles Chart and US Billboard Hot 100 chart.
16. Jennifer Lopez
This A-list singer not only possesses a look that is to die for but also owns a voice that keeps her listeners wanting more. Lopez's expansion in the music industry reached a point where she got to judge other musical performances on American Idol.
Check: 15 Most Popular Female Pop Singers of All Time
15. Britney Spears
The 'Princess of Pop' gave meaning to the title between the late 1990s and early 2000s with every youngster vibing to her music. For more than a decade, her album "Oops!… I Did It Again" was regarded as the fastest-selling album for a female artist in the U.S.
14. Ariana Grande
Record-breaking is almost synonymous with Ariana Grande who currently holds 30 Guinness World Records. She is another whistle-register singer with award-winning albums and singles which has earned her both accolades and criticism.
13. Selena Gomez
Excelling either as an actor or a singer has never been a problem for the multidimensional American. Her fans are never disappointed as Selena Gomez is always on her A-game leading up to several nominations and awards over the years. Six years ago, Gomez was named Billboard's Woman of the Year.
12. Mariah Carey
The amount of engagement that "All I Want for Christmas Is You" has received is a clear expression of how Mariah Carey has etched her artistry in the hearts of many. Her five-octave vocal range may have earned her numerous accolades or it could be the use of her signature whistle register.
11. Enrique Iglesias
Iglesias has impressed his fans in both the English and Spanish community with songs that have not failed to top the charts. He currently is one of Latin's most successful singers and he is the first on the Greatest of All-Latin Artists charts.
10. Taylor Swift
As one of the most recent awardees at the 65th Grammy Awards, Swift has once again proven how much influence she commands in the music industry. Her country pop album "Fearless" from five years ago set her up for greatness upon its release. Time magazine once listed Taylor as one of the 100 most influential people.
Check: Top 10 Most Popular Pop Singers from 1980s
9. Ed Sheeran
Sheeran is one artist that has held the fort in terms of recording bestsellers back to back. The Suffolk early bloomer hit a goldmine at the beginning of his singing career with a handful of his songs sitting as number one on the charts, not forgetting Multiply which became the second best-selling album worldwide in 2015.
8. Prince
The epicene singer was a stunner who displayed excellent mastery in the areas of his showmanship and fashion sense. His album Purple Rain peaked on the Billboard 200 chart for six months without interruption reeling in multiple awards in succession.
7. Justin Beiber
For his age, Justin Beiber, 'Prince of Pop,' has attained so much popularity amongst music lovers. This may have been influenced by the huge level of multidimensionality that he has exhibited in terms of his style of music. The Canadian singer broke the record of being the youngest solo male act in 2010 when his debut album My World 2.0 topped the US Billboard 200 chart.
6. Whitney Houston
It may have not been befitting to refer to any other artist in the 80s as 'The Voice.' Houston created an undeniably significant niche for herself with her soulful music and powerful renditions and this won her several Grammy Awards including the categories of Best Female Pop Vocal Performance and Best Female R&B Vocal Performance.
5. Madonna
Madonna lives up to the title 'Queen of Pop' and has made immense contributions to the music genre. She was top of the U.S. Billboard Hot 100 chart and was named the annual top-earning female musician by Forbes magazine. It was no wonder when many of her singles including "Like a Virgin" topped the charts.
Check: Top 15 Most Popular R&B/Soul Artists of 2023
4. Freddie Mercury
The Queen band member was very popular during his time due to the electrifying aura which most of his songs exuded. Sports events in Britain were never perceived as complete until "We Are the Champions" and "We Will Rock You" were sung.
3. Frank Sinatra
Ol' Blue Eyes agreed that his band days were over and decided to do solo music with Columbia Records at the time. His concert residency with Rat Pack in Las Vegas turned out to be one of the best seasons of his life. The song "My Way" was considered to be Sinatra's best seller with almost 1 million sales as it resonated easily with the public.
2. Elvis Presley
Similar to Michael Jackson, Elvis warmed the hearts of his audience with his sexually appealing dance styles. Most of his songs kept people glued to their radios but "Heartbreak Hotel" became a major hit in the U.S. when it was released and sold tens of millions within one year.
1. Michael Jackson
The American sensational singer is largely referred to as the "King of Pop", engaging his fans with songs like "Billie Jean," "Don't Stop 'Til You Get Enough," and "Thriller," his best-selling single. Michael Jackson, the highest-awarded musician, was, will, and forever be the most famous pop artist of all time and that should not be debatable. Period.
Check: Top 10 Most Popular Michael Jackson Tracks of All Time