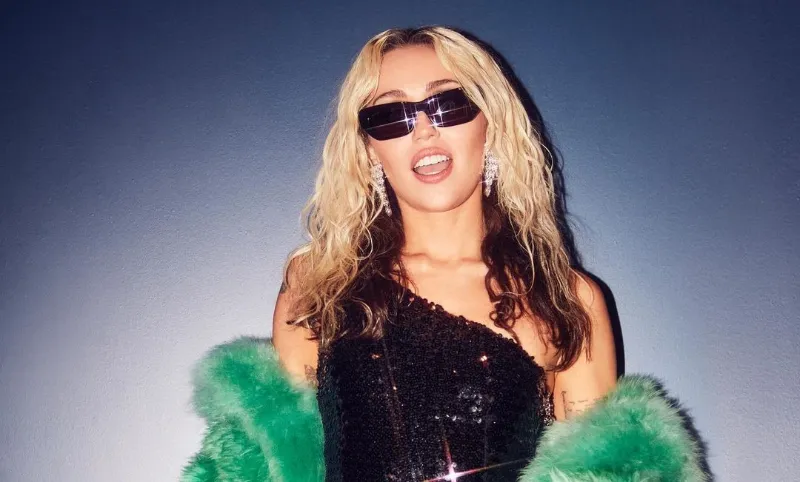 From all indications, the narrative isn't just changing. It has changed! Women have risen to the status of prosperous industry leaders who are paving the way for aspiring acts, both male and female. This piece is in recognition of some of the most popular female singers who have contributed immensely to the female movement and are excelling even until 2023.
1. Miley Cyrus
Miley, since the beginning of the year, has caused a positive uproar among song lovers. Following "Flowers," the teen-pop star turned music superstar has released her newest studio album, Endless Summer Vacation to commercial success. The project has made it to the top spot on iTunes and is already making it to more song charts across the world. The former Disney star and Hannah Montana queen is set to take fans on a ride of endless possibilities this 2023, and we can't wait to see all that she's got. Miley Cyrus is the most popular female singer of 2023, thanks to her banger release, "Flowers," which became the most streamed track with over 100 million in just a single week on Spotify.
2. Taylor Swift
Taylor is not just a popular female singer. Her influence exceeds that; the Fearless singer is one singer whose ceaseless work ethic has earned her titles as the highest-grossing female touring act of the 2010s, and one of the industry's highest income-generating artists. Already in high spirits for the new year, Swift has swept off the award for Best Music Video at the Grammys in February and is set to receive more in subsequent months.
Check: Top 15 Most Popular Pop Singers in the World 2023
3. Shakira
Shakira has opened the new year 2023 with a record-setting experience, as she has landed the title of the first artist with multiple global No. 1 hits on Spotify. Being a highly revered Latin superstar, the beautiful Colombia-bred singer, Isabel has also been credited for being an amazing influence on artists interested in the same niche. Bagging the singer yet another record is the singer's new single which debuted at number one on the iTunes chart on multiple charts across the country.
4. Adele
Adele is one queen that makes taking breaks off work pressure so desirable. Being one gifted singer-songwriter, Laurie did not take long before she had a break in 2008. Almost two decades later, the British singer and songwriter has successfully landed UK No. 1s for all her albums, while latest blockbuster, 30 charted in multiple countries, including the United States, Canada, France, Austria, Australia, and more than 15 more countries. The recent project has also earned the "Skyfall" songster a myriad of awards and recognitions.
5. Karol G
Beautiful Carolina Giraldo from Antioquia has not only been here long enough, but she has also invested enough work into landing a famous spot among the world's top leading female singers. The Colombia-born entertainer combines her skills in releasing titles that span across the Latin trap genre, reggaeton while using her knowledge of the Spanish language to appeal to more listeners. In fact, her active movement in promoting Latin music has earned her two major awards from Latin Grammys, among others. She already has earned herself a 2023 Billboard 200 chart topper, Manana Sera Bonito which also lists multiple charting singles, including the award-winning "Provenza" and her popular released Billboard Hot 100 Top 10 "TQG" hit single.
6. Selena Gomez
Many know Selena to be a talented music superstar. However, the studio queen is a woman of many talents and this can be attributed to the source of her level of influence in the entertainment arena. As a singer, Gomez has had a remarkable experience, owning rights to multiple chart-toppers and blockbuster records that never fail to appeal to the performer's stream of listeners. Her three solo albums, Stars Dance in 2013, Revival in 2015, and Rare in 2020 are all Billboard number one, and they all spawned variant commercially successful singles throughout the singer's career. Also, Selena is the most followed female artist on Instagram, breaking Kylie Jenner's record.
7. Beyoncé
Always a star, forever shining! Beyoncé is not just among the most popular female singers, she is one of the world's most influential and famous persons! Once named the world's most powerful celebrity by Forbes, it is hard not to acknowledge the American entertainer in that regard. Despite being one of the industry's household names, the performer never releases records that are below par. Therefore, it is well deserved if you watch Knowles-Carter amass some of the best titles and awards in entertainment.
Check: 15 Most Popular Female Pop Singers of All Time
8. SZA
As one of R&B's biggest names, Solana is a singer-songwriter who kicked off her career back in the 2010s, before her final breakthrough in 2017 with Ctrl. Despite being in a seemingly-male dominated genre, the singer has done exceedingly well in churning out Billboard chart-topping albums, her No. 3 Ctrl, and the No. 1 self-titled SOS. More than being a chart leader, the latter album also spawns more No. 1s with singles on its list, including the US Rhythmic and Hot R&B single, "Kill Bill."
9. Summer Walker
Over It, Walker's debut studio album was released about two years into her career in 2019. With the trial on the first project, the singer landed a top ten at No. 2 on US Billboard 200. As if that wasn't enough, Summer took things a step higher when she released the second one to global success in 2021, as Still Over It not only charted as no. 1 in the United States, but went on to chart Top 3 in Canada, and the UK. The same project goes on to break the standing record of the biggest R&B album debut in the country, among others.
10. Rihanna
https://www.youtube.com/watch?v=pyR1YFqb84I
Barbados native and founder of the leading Fenty Beauty and cosmetics brand, Rihanna is no new name on a list like this. With about 1.4 billion US dollars, Robyn Rihanna is not only one of the most successful female celebrities and singers. Rather, the entertainer holds an influence that supersedes music and places her in the league of the most prosperous businesswomen. For the iconic singer, it's a combination of fame, fashion, beauty trends, and motherhood. Her solemn but impactful new songs have once again resounded the singer's level of influence on a global scale.
11. Doja Cat
"Say So," "Kiss Me More," "You Right," and "So High" are only a fraction of the number of successful records that Doja Cat has put out. Popular for her mixed genre expertise, the singer has recorded and released melodies that span across song groups like rap, hip-hop, and R&B. The 27-year-old LA-born artist has released, in the period of her career three major albums, debut indie-pop Amala, the 2x RIAA certified Hot Pink, as well as US R&B Hip Hop Albums No. 1 Planet Her.
12. Bebe Rexha
"Hearts Wants What It Wants" is Rexha's way of telling us to brace up for what she's got to serve us in 2023. Anticipating the singer's upcoming Album, we take a look at some of her past records that would substantiate her presence on this list. Bebe, since 2010 has managed to get involved in a variety of sing genres that establishes her as a versatile act. She has released numerous charting singles, including "Meant to Be," "I'm a Mess," "Take Me Home," and "Hey Mama" among others. The new incoming project is a third in addition to her 2018 Expectations and 2021 Better Mistakes.
13. Lady Gaga
Singer and actress, Stefani Joanne had been a success from the start; with her Billboard number two, The Fame debut album. Since Lady Gaga has been invested in recording and releasing several chart toppers alongside her collaborative works with artists. Her Born This Way album was an even bigger success as it spawned number one in the US, UK, Canada, Croatia, Germany, Russia, Portugal, and New Zealand, among a host of others. Chromatica, the fifth album replicated similar success and was able to sell around 1,132,000 units of its vinyl editions in the US, in addition to her range of awards including thirteen Grammys.
Check: Top 10 Most Popular Female Pop Singers From 80s
14. Queen Naija
Queen's path to the thriving career she's established as an American entertainer wasn't in the least rosy. Before the "Medicine" singer gained recognition, she had tried to showcase her talent to the world through American Idol, as well as working as a YouTube content creator. Stepping up to music production from late 2017 through the early 2020s, the Michigan-bred performer finally owns an AMA-nominated album. The project also earns the singer her first Billboard Top 10 at No. 9, as well as a chart-topper on the Top R&B Albums in the US.
15. Ava Max
The year has only just started, but Amanda Ava Koci is not taking it slow in any way. After opening with a new single "One of Us" in January, the pop star proceeded in quick succession with the release of Diamonds & Dancefloors, the singer's sophomore project which successfully charted as a top 10 on multiple charts, on an international level. Max's time in entertainment has yielded great returns, and the Heaven & Hell songster is evidently prepared to take it to the next level in 2023 with her 'On Tour (Finally)' shows coming up.