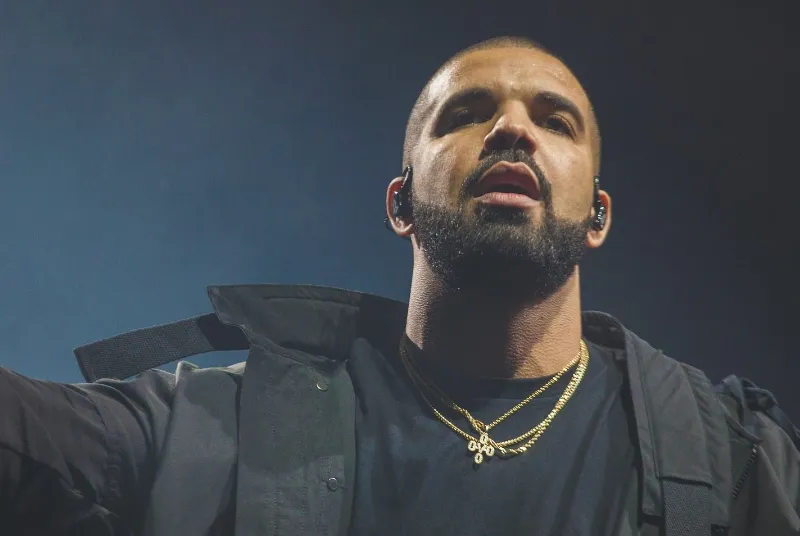 Hip Hop is one genre that houses a myriad of artists, from long-time artists to thriving newbies. In this list, you will get to see a good number of legendary and young rappers whose works have actively influenced the growth of hip-hop rap and their outstanding records.
Check out 15 famous rappers in hip-hop in 2023…
1. Drake
Drake is not one of the big guys on the Hip Hop rap street, this artist's legendary presence exceeds proceeds made from his song sales. His track record of success in the music industry has once again been proven with accolades for his recent projects in the past years from his Spotify-record-breaking and award-winning Certified Lover Boy and the 7th studio album by rapper, Honestly, Never Mind which made his 11th No. 1 on the Billboard 200 and chartered multiple Billboard Hot 100 hit singles. The "Sticky" rap star, Drake also maintains his title as the United States' most certified artist – making him the number one and most popular hip-hop rapper of 2023.
2. 21 Savage
Driven by a tragic live event complimented by his innate potential, Georgia-born musician, 21 Savage joined the group of lyricists in American entertainment. Since he picked up the mic in the early 2010s, the "A Lot" rapper had been set for success, releasing his debut project, Issa Album to tremendous success with a US Billboard No. 1 in 2017. Consistently doling out his records in subsequent years, the Grammy-award-winning rapper has profitably engaged in collaborative ventures with fellow entertainers like J.Cole, Post Malone, Drake, and others. With inferences of a new tour with the fellow Her Loss performer, fans are definitely in for a ride with the artist.
See: Top 15 Most Popular Pop Singers in the World 2023
3. Kendrick Lamar
Joining the league of awardees in February 2023, Lamar once again adds an extra feather to his crown with his Grammy win of Best Rap Album for his Billboard 200 No. 1 project, Mr. Morale & the Big Steppers. With one billion streams on Spotify and significant accolades from the AMAs and BET Hip Hop, Kendrick has recorded considerable success from this project. This enhances his already profitable career that has earned the artist a line of accolades from institutions like the Grammys and Primetime Emmys among others.
4. Lil Uzi Vert
Symere, better known as Lil Uzi is Pennsylvania's young representative in the top rap stars league. With his record from the past year, "Just Wanna Rock" landing a Billboard No. 1 in February 2023, one can tell that the New Year has begun on a considerably great note for the artist. Debuting with a Billboard 200 chart-topper with his first album, Luv is Rage 2, Uzi has proceeded to release more worthy records including the Red & White EP of 2022. The two-time Grammy-nominated artist has been regarded as one of the genre's biggest artists and you can't say otherwise.
5. Doja Cat
Doja, apart from her radical music releases is quite popular for being an artist of versatility. Recognized for not just rap, but for pop and hip-hop music. Amala, who has become a figure commanding attention in entertainment, has been able to churn out her own record-making hits. Her most recent album release, Planet Her earned the singer her second Billboard 200 Top 10 at a No. 2 while she landed a chart-topper in the United Kingdom. The same project earned Cat multiple nominations and award wins from the Grammys, AMAs and MTV VMAs, and more. This feat was achieved from the album itself and its singles like "Kiss Me More," "Woman," and "Need to Know" among others.
6. Lil Baby
Since Lil Baby landed his Billboard Top 10 status with the My Turn sophomore album in 2018, the Atlanta-born rapper has been a subject of attention among hip-hop lovers. In subsequent projects, Dominique further established his expertise through his album, The Voice Of Heroes with other big guys in the genre like Lil Durk and Travis Scott. The past year also had the "Bussin" rapper working with one of the lead female lyricists, Cardi. With It's Only Me, Lil hits yet another chart-topping in the United States. It takes influence to attain the height, and this entertainer has evidently paid his dues.
7. Future
In the space of a little over one decade, rapper Future built from scratch an astoundingly successful career; releasing to the public listening to an array of hits and chart-topping records. Owning credits to ten big albums, the "Wait For You" star has been awarded two Grammys in recognition of his applaudable works with "Wait For You" in 2022, an addition to the earlier win for Best Rap Performace in 2019. Often regarded as one of the best rappers in the industry, the talented rap wizard is often placed in the top league among his contemporaries for the success he has recorded from his ten consecutively released albums.
See: Top 15 Most Popular R&B/Soul Artists of 2023
8. Coi Leray
Leray is one artist who you'd call Hollywood royalty because of her father's status in the industry. Contrary to the expected though, Coi is slowly but surely paving her own way in the competitive industry through her brilliant skillset. Although the young Hip Hop star had been at it for more than five years, her works didn't get a worthy reward until her recognition in 2018 with music features and record releases. The artist, who is a BET Awards nominee has continued to excel, setting the success of her Top 100 Billboard charting debut studio album, Trendsetter.
9. Tyga
Born in Compton, Michael Ray, who is more popularly known by his stage name, Tyga began his career back in the 2000s and quickly picked up the pace with his distinctive voice and music style. Starting early by engaging with fellow hip-hop stars, Tyga has maintained this throughout his career, collaborating to release a number of vibe-worthy and viral hits. Through the years, the entertainer has earned top ten for most of his records including the "Taste" "Loyal," and "Wait For a Minute" singles, among a host of other accolade-worthy songs.
10. Ice Spice
In only two years, Isis Gaston has transformed from the newbie on the block to the NYC thriving rap star. The rapper's "Munch (Feelin' U)" has in no small way projected the artist for better success. This is clearly evident in its Top 5 Billboard charting position on the Bubbling Under Hot 100 songs. Although yet to release a studio album proper, the singer's exceptional EP is one of the reasons she makes this list. Released earlier in January 2023, Like…? has earned the up-and-coming entertainer a Top 40 on the United States Billboard 200, while charting considerably well across countries like Canada.
11. Gucci Mane
Rap legend since the 2000s, Gucci Mane is no strange name in the world of hip-hop and rap. The Alabama star who also doubles as a record executive has recorded millions of album sales and stands as one of the oldest artists in the game. The rapper, for over 20 years has built a record-breaking career supported by his ceaseless desire to create and release the best. His track record of fifteen studio albums, including Evil Genius, Mr. Davis, Murder Was the Case, and number-one singles to support these projects, as well as the entertainer's multiple numerous accolades prove his expertise in the field.
12. GloRilla
Glo is so not your typical Gen Z femme rapper. At 23, Glorilla is already a Grammy and multi-nominated artist, with a BET Hip Hop Award in the bag. With credits to the popular TikTok viral song," F.N.F(Let's Go)," Gloria Woods has considerably increased her fame. The rapper's multiple collaborations, like on "Tomorrow 2" with industry leader, Cardi B, further complimented this.
13. Polo G
Artists like Polo know just how well to make a point hit home. With his Billboard 200 No. 2 sophomore album, G reinstates his status as The Goat and further establishes his top status with a number one on the singer's third album, Hall of Fame! The 24-year-old rapper within a decade tirelessly invested his best into the development of his craft, and it is no wonder the level of fame he has attained and followership amassed, makes him one of the best rappers of today.
14. Dababy
Dababy is the Ohio-born chartbuster that you've been vibing to on the popular "Rockstar" hit single. Entering into the scenes with his series of mixtapes, Jonathan soon picked up the pace with the release of his debut and second projects, the US Billboard Top 10 Baby on Baby and the self-titled No. 1 Kirk in 2019. The artist has churned out almost a decade, including numerous commercial songs like "Suge," "Masterpiece," and "Red Light Green Light" among others.
15. Central Cee
There's no way you'll inquire about happening rappers from the United Kingdom and the name Central Cee wouldn't pop up. Although the artist didn't experience a breakthrough until 2020, his subsequent releases have been nothing short of successful. The 24-year-old, through his ascending career, is proof that things do get better with years. His UK No. 1 with his 23 sophomore is a step up from the No. 2 debut, and with Cee earning a billion streams in the last year, it's apparent that he is just getting started.