Below listed are the best songs on Christmas that you can listen to in 2023. We all wait for the Christmas festival and this feeling always excites us. Every year this eve has many surprises for us. Along with those, the element of music is quite significant to make our moments even more memorable.
These new iTunes top merry Christmas tracks will ensure you enjoy each holiday moment by grooving, sharing with your friends and family, or simply playing while watching the snowfall from your room's windows.
See more: Top Latest Pop Songs & Top 100 Christmas Albums & Top Classical Songs
Top 100 Popular Christmas Songs
---
1. Somewhere Only We Know - Lily Allen
Genre: Holiday Released: November 10, 2013
2. All I Want For Christmas Is You - Mariah Carey
Genre: Christmas Released: October 29, 1994
3. Monster Mash - Bobby "Boris" Pickett
Genre: Halloween Released: October 9, 1962
4. How Great Thou Art - Home Free
Genre: Holiday Released: November 11, 2016
5. Last Christmas (Single Version) - Wham!
Genre: Holiday Released: December 1, 1984
6. Santa Claus Is Comin' to Town (Live at C.W. Post College, Greenvale, NY - December 1975) - Bruce Springsteen
Genre: Holiday Released: January 1, 1985
7. Monster Mash - Bobby "Boris" Pickett & The Crypt-Kickers
Genre: Halloween Released: September 1, 1962
8. Hallelujah - Carrie Underwood & John Legend
Genre: Holiday Released: September 20, 2005
9. Fur Elise - Trans-Siberian Orchestra
Genre: Holiday Released: April 11, 2000
10. Linus and Lucy - Vince Guaraldi Trio
Genre: Holiday Released: December 9, 1965
11. Ave Maria - Michael Bublé
Genre: Holiday Released: October 14, 2011
12. Here Comes the Sun - James Taylor, Yo-Yo Ma, Arnold McCuller, David Lasley, Kate Markowitz & Andrea Zonn
Genre: Holiday Released: October 10, 2006
13. Hark! the Herald Angels Sing - London Symphony Orchestra
Genre: Holiday Released: January 1, 2001
14. God Rest Ye Merry Gentlemen - London Symphony Orchestra
Genre: Holiday Released: January 1, 2001
15. O Come All Ye Faithful - London Symphony Orchestra
Genre: Holiday Released: January 1, 2001
16. The First Noel - London Symphony Orchestra
Genre: Holiday Released: January 1, 2001
17. Christmas / Sarajevo 12/24 (Instrumental) - Trans-Siberian Orchestra
Genre: Holiday Released: October 15, 1996
18. Mary, Did You Know? - Pentatonix
Genre: Holiday Released: October 21, 2014
19. Believe - Josh Groban
Genre: Holiday Released: November 2, 2004
20. Wizards in Winter (Instrumental) - Trans-Siberian Orchestra
Genre: Holiday Released: October 12, 2004
21. It's the Most Wonderful Time of the Year - Andy Williams
Genre: Holiday Released: October 14, 1963
22. Feliz Navidad - José Feliciano
Genre: Holiday Released: November 1, 1970
23. Winter Song - Sara Bareilles & Ingrid Michaelson
Genre: Holiday Released: December 1, 2008
24. Underneath the Tree - Kelly Clarkson
Genre: Christmas Released: October 25, 2013
25. It's Beginning To Look a Lot Like Christmas - Michael Bublé
Genre: Holiday Released: October 14, 2011
26. Merry Christmas, Happy Holidays - *NSYNC
Genre: Christmas: Pop Released: January 1, 1993
27. The Christmas Shoes - NewSong
Genre: Holiday Released: January 1, 1999
28. Baby, It's Cold Outside (Glee Cast Version) - Glee Cast
Genre: Christmas Released: November 9, 2010
29. Rudolph the Red-Nosed Reindeer - Gene Autry
Genre: Holiday Released: September 1, 1949
30. Hard Candy Christmas - Dolly Parton
Genre: Holiday Released: January 1, 1984
31. The Thanksgiving Song - Adam Sandler
Genre: Thanksgiving Released: September 24, 1993
32. A Mad Russian's Christmas (Instrumental) - Trans-Siberian Orchestra
Genre: Holiday Released: October 15, 1996
33. O Come, O Come Emmanuel - Enya
Genre: Holiday Released: November 7, 2008
34. Little Drummer Boy - Pentatonix
Genre: Holiday Released: December 1, 2013
35. Last Christmas (Glee Cast Version) - Glee Cast
Genre: Christmas Released: November 9, 2010
36. Sleigh Ride - The Ronettes
Genre: Christmas: Classic Released: November 22, 1963
37. Main Theme (From "Halloween") - Halloween Scream Theme Team
Genre: Holiday Released: August 24, 2006
38. O Holy Night - Martina McBride
Genre: Holiday Released: September 29, 1998
39. Last Christmas (Single Version) - Ashley Tisdale
Genre: Holiday Released: November 1, 2006
40. Mary, Did You Know? - Kenny Rogers & Wynonna
Genre: Holiday Released: January 1, 1996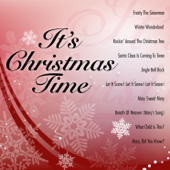 41. O Holy Night (Glee Cast Version) - Glee Cast
Genre: Christmas Released: November 9, 2010
42. Grandma Got Run Over By a Reindeer - Elmo & Patsy
Genre: Holiday Released: December 1, 1979
43. When Christmas Comes to Town - Matthew Hall & Meagan Moore
Genre: Holiday Released: November 2, 2004
44. Christmas (Baby Please Come Home) - Darlene Love
Genre: Christmas: Classic Released: November 22, 1963
45. I Heard the Bells on Christmas Day - Casting Crowns
Genre: Holiday Released: October 7, 2008
46. All I Want for Christmas Is You - Vince Vance And The Valiants
Genre: Holiday Released: January 1, 1990
47. Christmas (Baby Please Come Home) - Mariah Carey
Genre: Christmas Released: October 29, 1994
48. Redneck 12 Days of Christmas - Jeff Foxworthy
Genre: Holiday Released: August 27, 1996
49. Baby, It's Cold Outside (Duet w/Nick Lachey) - Jessica Simpson
Genre: Holiday Released: November 19, 2004
50. Christmas Canon Rock - Trans-Siberian Orchestra
Genre: Holiday Released: October 12, 2004